Diwali 2017 Day 4: Lakshmi Puja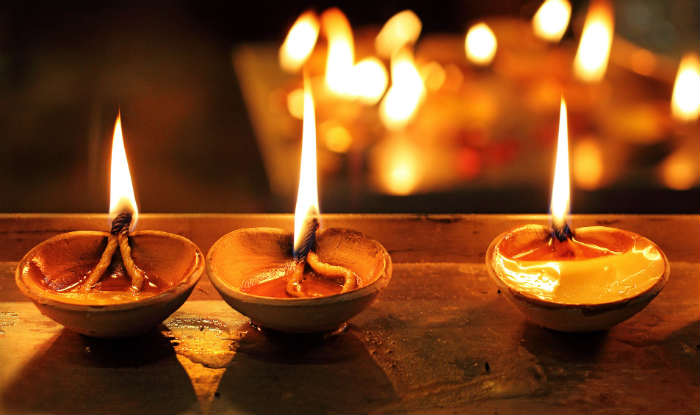 This year, Lakshmi Puja falls on 19th October; Lakshmi Puja is done on the day of Amavasya.

According to the Hindu belief, the wife of Lord Vishnu, Lakshmi visits all her devotees on the earth and bestows them with blessings and prosperity. In order to welcome the Goddess, people clean their houses, paint them, decorate them with flowers and lightings, and put rangolis at the entrance of the house. People believe that the happier Lakshmi is during her visit she will bless the family with more wealth and health.
In the Northern and the Western part of India, the main Diwali is the Lakshmi Puja. On this day, the broom is worshipped by offering haldi and sindoor as it is believed that the goddess visits only the house that is clean. In order to light up the way of the Goddess Lakshmi, earthen lamps are lit up. The fourth day of Diwali is the most auspicious day. On this day, the devotees do the Lakshmi Puja and invite the goddess to their homes with a great pomp and offer several gifts and eatables to her.
At the time of Pradosh Kaal Muhurat
Lakshmi Puja Muhurta: 19: 26 to 20: 25
Duration: 58 Mins
Pradosh Kaal: 17: 54 to 20: 25
Vrishabha Kaal: 19: 26 to 21: 24
At the time of Mahanishita Kaal Muhurat
Lakshmi Puja Muhurta: 23: 46 to 24: 37
Duration: 50 Mins
Mahanishita Kaal: 23: 46 to 24: 37
Simha Kaal: 25: 54 to 28: 06
Choghadiya Puja Muhurat
Morning Muhurta (Shubh): 6: 29 to 7: 55
Morning Muhurta (Char, Labh, Amrit): 10: 46 to 15: 03
Evening Muhurta (Amrit, Char): 16: 29 to 21: 03
Night Muhurta (Labh): 24: 12 to 24: 41
Laxmi Puja involves the puja of the fives gods: Lord Ganesha is worshipped at the beginning as it is believed that every auspicious act should begin with worshipping the Vighneshvara; Goddess Lakshmi is worshipped after that in her three forms, Mahalakshmi which is the goddess of wealth and prosperity, Mahasaraswati which is the goddess of learning and wisdom, and Mahakali which is the goddess of eradicating evil. At the end, Lord Kubera, the treasurer of the gods, is worshiped.